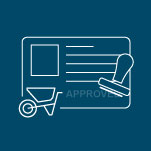 New Sub-Decree on Construction Permits
On 30 December 2020 the Cambodian government adopted Sub-Decree 224 on the Construction Permit ( "Sub-Decree No. 224") replacing Sub-Decree No. 86 on Construction Permit issued in the year 1997 (the "Sub-Decree No. 86") and now determines the jurisdiction, conditions and procedures for the issuance and renewal of permits related to construction works – including site opening, construction, repair, and demolition.
Whereas Sub-Decree No. 86 only prescribed the rules on the construction and demolition permits, Sub-Decree No. 224 includes the site-opening permit and repair permit.
In addition to the above, Sub-Decree No. 224 also addresses the issue of disputes and clarifies that owners involved in a dispute concerning the ownership of the property will not be able to apply for the construction permit. This issue was not explicitly addressed in Sub-Decree 86.
Further, Sub-Decree No. 224 determines the jurisdiction for the monitoring of the construction or demolition work. For construction or demolition work with an aggregate floor area of more than 3,000 square meters or with a height of 11 floors or higher, a permit shall be obtained from the Ministry of Land Management, Urban Planning and Construction ("MLMUPC"). The same applies to water storage tanks or areas which are more than 15 metres in height and 50 cubic metres in volume. Other construction sizes which fall below this threshold will be subject to the monitoring of the provincial departments of the MLMUPC. However, construction or demolition of an aggregate floor area of less than 500 square meters or with a height of fewer than four floors, including the ground floor (without a basement), will come under the purview of the district and Khan authorities and their respective land offices.
Certain building or demolition works are exempted from the requirement to apply for the relevant permit under Sub-Decree No. 224 in the following cases:
that the building or demolition work was made as part of an act to rescue or protect lives; or
that the work was done to minimise the impact or damage which may be caused to any public or State property.
There are also certain properties that are exempted from the requirement to obtain a repair permit under Article 28 Construction Law and Article 15 of Sub-Decree No. 224.
If you have any questions or require additional information, please contact Matthew Rendall, Lim Veasna, Tor Revit and Neou Sonika at SokSiphana&associates (a member of ZICO law)
This alert is for general information only and is not a substitute for legal advice.