December 19 Announcement
In light of recent Covid-19 cases, the Ministry of Health responded with new entry requirements for travelers entering into Cambodia effective from December 12. With all these ongoing, updated measures enacted from time to time, it can be difficult to know what the requirements are exactly and how they may vary depending on your situation or which visa you hold. The flurry of revisions over the past few weeks and months have made it somewhat difficult for the public to comprehend the new rules.
To help you to better understand these requirements, here is a summary of the current measures and requirements as they apply to various scenarios. This Master Sheet will clarify the conditions for entry into the Kingdom as of December 31, 2020 and will also provide a comparative history of the measures enacted since the pandemic started.
1. Requirements for Diplomats and Officials from International Organizations (IOs)
The government released the following original directive on 6 August 2020 (effective 17 August 2020) pertaining to Diplomats and officials holding visa types A and B. According to the directive they were required to comply with the following:
Must obtain a health certificate verifying that they have tested negative no longer than 72 hours prior to departure.
Must be tested upon arrival.
Mandatory quarantine in approved accommodation for at least 24 hours while waiting for Covid test result.
Must be tested a second time on the 13th day of their stay.
If test positive (at any test), will be transferred to the Royal Phnom Penh Hospital or other approved hospital, at the Diplomat's or IOs' expense.
However, those above requirements have since been changed. On December 19, the Ministry of Health released an announcement (effective December 19) pertaining specifically to diplomats and officials. Whereas previously diplomats and officials were exempt from the 14-day quarantine if they tested negative upon arrival, they are now required to quarantine for a full 14 days (with option of the Himawari Hotel) in addition to the other requirements listed above (with the exception of the 24-hour waiting period, which is no longer in force or relevant).
As such, since December 19 the only difference between diplomats and other travelers is that if the Diplomat does not want to stay in the hotels designated for general quarantine, they may choose to stay at the Himawari hotel, whereas a regular travelers stay at the hotel designated by the government on arrival.
This recent tightening of the entry requirements likely stems from the November 28 community outbreak.
There are now no exceptions to the 14-day quarantine, not even for diplomats.
2. Requirements for Cambodians, Investors and Foreign Nationals
On 11 November 2020, the Ministry of Health announced new measures tightening entry requirements into Cambodia for all travelers (except diplomats or officials working for international organizations and aircrew)  – effective 18 November onwards. These requirements differed depending on your status.
Sponsored investors and employees were only required to stay in quarantine while awaiting their first test result (plus have to produce a health certificate verifying that they have tested negative no longer than 72 hours prior to departure). They were the only group besides diplomats and officials exempted from the mandatory 14-day quarantine, providing they tested negative upon arrival. However, this exception was suspended as of December 12 (see below).
Arriving Cambodian nationals holding a Cambodian passport or a foreign passport have to undergo mandatory 14-day quarantine, but free of charge. They must quarantine at a center or hotel as designated by the government. The quarantine process ends when the person tests negative on day 13 of the mandatory quarantine. This measure is still applicable from December 12 onwards.
General foreign travelers must undergo mandatory 14-day quarantine at a government-designated hotel (plus produce a health certificate verifying that they have tested negative no longer than 72 hours prior to departure). Furthermore, they must deposit USD2000 upon arrival and purchase a Forte health insurance package for USD90 (being USD50,000 coverage for 20 days https://www.forteinsurance.com/Covid-19-insurance/). The quarantine process ends upon testing negative on day 13 of the mandatory quarantine. This measure is still applicable from December 12 onwards.
The December 4 Announcement
New measures were announced on 4 December 2020, by the Ministry of Health concerning entry requirements (effective 12 December). This announcement initially created some confusion as it was not explicit as to how it related to the previous announcements. This announcement provided for:
Mandatory quarantine of 14 days for all travelers entering the Kingdom of Cambodia plus a requirement to produce a health certificate verifying that the traveler tested negative no longer than 72 hours prior to departure.
The suspension of the sponsorship mechanism for investors and company employees.
The disclosure of the identities of those who test positive for Covid-19.
Confusion arose regarding the 14-day mandatory quarantine requirement for "all travelers" entering Cambodia given the existence of the special rules dated 6 August 2020 which exempted diplomats and officials of international organizations.
Addressing the December 4 measures, the Secretary of State for Civil Aviation issued a notice dated December 8 stating that the measures announced on December 4 do not apply to diplomats and officials of international organizations and aircrew.
However, the 19 December announcement (mentioned above) confirmed that diplomats and officials are now also subject to the full 14-day quarantine.
 3. The Particular Case of Airline Aircrew
Like diplomats, aircrew belong to a special category. The entry requirements for them were determined on August 14, 2020. However, the directive of August 14 from the MoH only states that air personnel must "adhere to the health measures that are effective in Cambodia". These measures are not defined in detail. This is why the announcement of December 4, 2020 indicating that "all travelers" had to submit to quarantine has left doubt about aircrew. This doubt was removed on December 8, 2020 as the State Secretariat of Civil Aviation indicated that the measures announced on August 14, 2020 would continue to apply to air personnel beyond December 12, 2020.
At present, it would seem that aircrew arriving in Cambodia would not be subjected to any testing or quarantine upon arrival.
4. Visas and Quarantine Costs
As a general reminder, it is important to note that Cambodian authorities are no longer issuing visas on arrival. While the authorities had decided to suspend the issuance of visas through the e-visa application system on March 30, 2020 for an indefinite period, the announcement reinstating the online application procedure may have come as a surprise. This announcement was made on 19 February 2021 and was made effective on 20 February 2021. See https://www.evisa.gov.kh/news.
The reinstatement of this application procedure does not change any entry requirements but is only a change in application . Note though, that this reinstatement of online application only applies to category E type visas (not other visa categories such as tourist, diplomatic and NGO etc).
With this online application procedure reinstated, applicants may apply for the category E Visa without having to go to the Cambodian embassy in their home country. This should ease the entry visa application process, as some travelers may face difficulties in accessing the Cambodian embassy/consular office in their home country given the restrictions on movement in some countries.
All accommodation costs during quarantine for non-Cambodian travelers will be deducted directly from the $2000 deposit. It is not expected there will be much refunded from this initial deposit after quarantine, as the minimum cost of the hotel quarantine and testing will be well over $1000[1].
[1] See https://kh.usembassy.gov/covid-19-information/#:~:text=Are%20U.S.%20citizens%20permitted%20to,arrival%20programs%20until%20further%20notice.
Traveling with Family
A common difficulty encountered by families when arriving in Cambodia is that there are no government guidelines on the subject of families and the costs and requirements for quarantine measures (including deposits and PCR tests) are per individual.
However, it appears that in practice Cambodian authorities would not require such a deposit upon arrival for children under 15 years of age. In this case, the costs incurred by the children (such as the PCR test) are then directly deducted from the parents' deposit.
It is important to have the deposit amount (2000USD per person, including children) since some airlines may be strict and refuse boarding to passengers who do not have the required amount.
Upon arrival in Cambodia, parents may occupy an additional room if their room capacity is insufficient. However, the cost of an additional room will be charged to the parents.
For the families of both Cambodian citizens, type K visa holders and foreign nationals, there is an option to quarantine at a hotel. The deposit of 2000USD will be required only for the foreign traveler, but all quarantine and accommodation fees will remain due for the whole family.
5. Quarantine obligations and related sanctions:
On February 15, 2021, the Royal Government of Cambodia decided to take a firmer stance against those who would consider not complying with the quarantine measures in force. Thus, Sub-Decree No. 27 introduced a number of new quarantine obligations and related sanctions for violations of these obligations.
There are 4 obligations that every person in quarantine must respect are the following:
Properly implement the measures as determined by the Ministry of Health
Shall not leave the quarantine location without the permission of the quarantine officials
Cooperate with health officials in the collection and sending of specimen for COVID-19 tests
Cooperate by providing information to health officials, regarding any person suspected to be infected with COVID-19 or any persons who were directly or indirectly in contact with COVID-19 patients, or any person who shall be under quarantine, and provide any other necessary information.
These measures apply to persons placed in quarantine, which covers two situations:
-all travelers arriving in Cambodia
-any person who have been in direct or indirect contact with a COVID-19 patient at any moment
Failure to comply with the quarantine obligations may result in fines ranging from USD 250 to USD 1250 (x 10 times that amount for private health facilities) and/or deportation and exclusion from the country.
6. Testing Positive at First or Second test:
In the event that a traveler tests positive for Covid 19 (on either test), the Ministry of Health has reportedly appointed three hospitals in Phnom Penh (Khmer-Soviet Friendship Hospital, National Pediatric Hospital, and Kunthabopha Hospital) and 25 Provincial as referral hospitals for the treatment of Covid19 positive cases. However, it would appear that this information announced by the Minister of Health has not been officially published. It was relayed on March 16, 2020 by several newspapers including the Khmer Times[2], as well as the U.S. Embassy in Cambodia[3] and the American Chamber[4] (Amcham). When the Ministry of Health announced the pricing of quarantine measures for travelers for treatment in hospitals (Ministry of Health No. 564 of 11 June 2020), only the term "public hospitals" were used. The press has reported regularly since March that infected patients are treated in the Khmer-Soviet Friendship hospital. A recent press release of MoH dated 23 December 2020, as well as numerous previous press releases, also mentioned that Covid19 patients were treated at the Khmer Soviet Friendship hospital.
Entry Requirements at a Glance
You can quickly check the requirements depending on your situation by looking at the summary tables below, applicable as of December 31, 2020.
2020 review: Key Covid-19 measures for foreign travelers *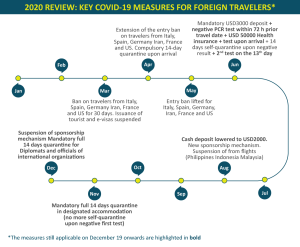 [1] The T or Tourist visa offers 30 days duration stay with no multiple entries.
[2] B, EG, ER, ES are all Extensions of Stay of the E-type Visa, and can only be obtained in country once the applicant has entered the country on an E-type (Ordinary) Visa.
[3] Comparable to the E visa, the C visa is reserved for those who work in NGOs.
[4] The A visa is reserved for diplomats.
[5] The B visa is for officials of international organizations
[6] The K or Khmer visa can only be given to Cambodian descendants that enter Cambodia with a foreign passport. K-type (Special) Visas are not permanent, they are only issued for the validity period of the passport. In order to travel to Cambodia with a K-type Visa, the travelers must have a valid K-type Visa in their current passport.
Cambodian nationals and type K visa holders have a choice for quarantine.
They have a choice of quarantining free of charge in a Cambodian quarantine facility or quarantining at a hotel at their own expense. Do note that Cambodian travelers will not be required to pay the 2000USD deposit, even if they choose to stay in a hotel.
The details of quarantining at a public facility is not well documented, except for one Cambodian traveler who documented his experience here: My Experience in a Quarantine Camp in Cambodia – R.S (wordpress.com). Nevertheless, the major drawback of the public quarantine center is that if a positive case is discovered, all the people in the quarantine center must start their quarantine all over again, and this may even happen several times.
Travelers vaccinated against Covid19
Although it has been announced that quarantine measures for vaccinated tourists may be eased in the last quarter of 2021[1], Covid19 vaccination does not currently allow for the easing of measures and requirements for travel to Cambodia.
[1] https://www.phnompenhpost.com/business/kingdom-may-drop-quarantine-vaccinated-tourists-q4