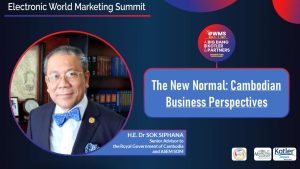 Join us for the upcoming eWorld Marketing Summit from 6-7 November 2021 that brings ideas and observations from over 90 innovative minds from the corporate, public, non-profit and academic spheres to explore ways to improve the world with better marketing. 
Dr Sok Siphana will be a keynote speaker discussing "The New Normal: Cambodia Business Perspectives". 
The program will be available worldwide from Auckland to Los Angeles while targeting to reach via online to millions of participants from over 100 countries.  
 Key topics include: 
Value Creation

 

Design Thinking & Modeling

 

New Product Development

 

Customer Journey Mapping

 

Market Segmentation

 

Behavioral Analytics

 

Targeting and Positioning through Pricing

 

Omni-Channel Strategy

 

Digital Marketing

 

Digital Transformation

 

Influencer Marketing

 

Customer Data Management

 

and a lot more!

 
For more information about registration and fees, visit here.