Letter of Appreciation from Cambodian Prime Minister to SokSiphana&associates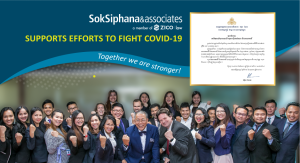 The coronavirus pandemic, known as COVID-19, is a global health crisis that continues to impact the world almost in no different way from an economic crisis. This has been the greatest challenge posed to the livelihood of many, as the economy of each country takes a downturn.
Likewise, Cambodia, facing a similar situation, sees many of her people losing their jobs and incomes and not knowing when things will return to normal. Large gatherings, such as sporting events and concerts have been cancelled, while hotels, bars, clubs, theatres and schools have closed down, either without choice or due to governmental order, which proves COVID -19 to be more than just a health crisis.
Besides the private sector, public institutions have also faced the adverse effects of this pandemic. Due to the slowing down of the economy, public revenues have decreased and the national budget has shrunk.  This has consequentially hampered the government's efforts in the campaign and treatment against COVID-19 in Cambodia.
In light of our cooperate social responsibility, on 20 May 2020, SokSiphana&associates has donated USD 500 to the government to help combat the COVID-19 pandemic. We are proud to make this donation to support the government and the Inter-Ministerial Committee Against COVID-19, in their efforts to fight against COVID-19.
We encourage everyone to contribute back to your own society during this pandemic. Together we can help each other to fight against COVID 19.